Lindy's Story SAC activity pack for Covid times.
Every month we will be doing a Story SAC activity pack complete with a book, crafts and porcelain, or a cuddly bear to make. Each month will have a different theme, sometimes two if there is a special event coming up. Each pack will be delivered to your door with everything you need to complete the activities. We will pop the packs on here a few months in advance so you can plan what you would like. You are welcome to grab a previous month if you see something you have missed. We will take them offline as soon as they are sold out.
January 2021
Brave little Penguin £10.00.
When Plip the penguin loses his favourite toy, it seems like the end of the world. Will he get caught in the snowstorm? Will he find his toy?
Why not make your own Plip and take him on the adventure?
Pack includes this wonderful book, cuddly penguin, fluff and heart.
Under the Sea pack £20.00
February 2021
On the Farm pack £20.00
This pack comprises of; two of the Usborne Poppy and Sam books, a porcelain cow with paint and brush, as well as Chestnut the horse with fluff and heart.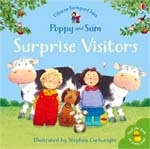 Read the hilarious story of the 'Bunged up Trunk' and then build your own cuddly elephant to cuddle up to. The pack includes stuffing and heart.
Valentine £10.00
Share the heartwarming 'I love you to the Moon and Back', with your little one, and then paint a gorgeous porcelain bear. Paints and brush are included.
March 2021
In the Jungle pack £10.00
Under the Sea is a beautifully illustrated Usborne book, packed full of fascinating creatures.
This pack includes Bubbles the dolphin, fluff and a wish as well as a chunky canvas, paint and brush to make your own under the sea picture.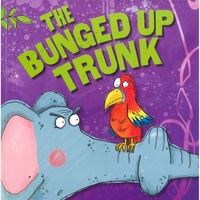 Easter 2021
Easter pack £20.00
One of my favourite books! 'Chicken Licken' thinks the sky is falling in. Why not share this with your little one and make your own Ducky Lucky for the adventure. This pack also includes one of our porcelain rabbits complete with paint and brush as well as an age appropriate Easter craft.
No matter which book you want to carry round, why not use one of our environmentally friendly large tote bags.
Just £2.00 per bag!
Lindy's Story SAC in normal times.
What is Lindy's Story SAC?
Lindy's Story S.A.C. incorporates a themed story, song, activity and ceramic painting (or equivalent) in each session. They are fun adventures to help children reach their early learning goals (ELG) through expression, creativity and play.
Sessions start with a story and an activity to support the ELGs, followed by a song. We then do our crafts/ceramic painting before the children have snack and juice time. These sessions have proved popular over the winter months, but are now taking a break for Summer as the Sun comes out and people head for the park.
You are welcome to book us to a venue event or party (or even to the park - we need sunshine too).
Any queries to Lindy on 07875588473